Custom Fields
You can add extra, custom fields to SliQ for use in invoices, quotes and so on.
For each of the following types of record, up to 2 string fields and 1 date field can be added:
| | |
| --- | --- |
| • | invoice, delivery notes, quotes, credit notes |
For more information see:
See Also
Defining Custom Fields
To define a custom field all you need to do is set the field title as follows.
1. Select the Setup/ General tab and press the Additional Fields button as shown in the following picture.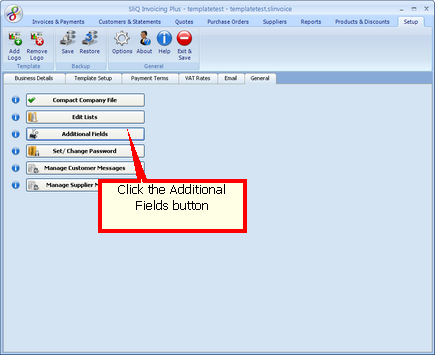 The Custom Field Configuration dialog will be displayed.
2. Enter titles for the fields you wish to define then press the Close button.
Entering Data into Custom Fields
If you have defined custom fields, an Additional Fields tab will be shown when you are editing a data item, e.g. editing an invoice. To save data into the custom fields, select the Additional Fields tab and enter data. The data will be saved automatically. Here is an example of the Additional Fields tab shown when editing an invoice.
Adding Custom Fields to Templates
By default, custom fields won't appear on templates. The custom fields have to be added to your template (your invoice template for example).
To add fields to templates, open the template editor for the template you wish to modify then add a field to the template and change the field type to the custom field as shown below.
See Also